Welcome to the Colors of the Siberian Husky site!
If you'd like to learn about the Siberian Husky breed and see 250+ different Sibes, this is a very good place to start:
| Siberian Husky Information | Siberian Husky Colors | Color Genetics | What's New |
Here you will find over 600 images of 250+ Siberians.
The site includes information on the genetics behind the many colors (all colors are acceptable)
as well as general breed & rescue information. The dogs are arranged by color with links to their
owners' web pages & email addresses.
Whether you are learning about the different colors for the first time, or just looking at the different color coat patterns,
I hope you will enjoy your time here. If you have any comments or suggestions, please contact me.

If you found our site useful, please consider promoting the breed
by helping to sponsor Northwapiti Siberian Husky Kennels
in their Iditarod participation. Sponsorships of any amount $5-$???
can be made via check or paypal with more information at www.NorthWapiti.com

Find purebred Siberian Husky rescues at Siberian Rescue or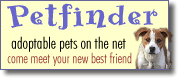 Available dogs, searchable by breed & location
One can never READ too much about the Siberian Husky...Especially BEFORE you acquire one!
Add one or more of these books to your collection now!
Words of Wit - A collection of pieces, mostly to amuse


Please Click to visit, if you think our site is worth recommending to others.


This site was once recognized as the number two resource on the internet for information on "Siberian Huskies by Links2Go" (Based on the number of times it has been listed as a resource by other sites.) The Search Engine was discontinued 1/10/2003 due to cost
Siberianrescue.org is #1, please consider giving a rescued Siberian Husky a home!!

¤º°`°º¤ø,¸¸,ø¤º°`°º¤ø¤º°`°º¤ø,¸¸,ø¤º°`°º¤ø¤º°`°º¤ø,¸¸,ø¤º°`°º¤
---
Created by Ann M. Hernandez
Revised: July 08, 2008.
© Copyright 1997-2008 & beyond!
Please do not "borrow" images or text from this site without asking permission. We have invested hundreds of hours on this site and ask that you respect our intellectual property.


©

Colorized running husky done by me to look like our original Siberian Loki.
We often grant permission to requests from other Siberian Husky sites to include our "Loki" image above, however, we request that the image is NOT to be used as part of any other site banners as it has been part of one of our site banners since 1997. The original banner only referenced 100+ siberians. Below us an updated copy visitors may use to link to our site.

Please, folks - don't plagiarize. If you want to make any of the material here available to your readers, just provide a link.
For additional sites related to Siberian Huskies, I suggest the links page of Barkarian Kennels and/or the Working Dog Web page.


We are happy to provide technical assistance to North Wapiti Kennels, Alberta Canada.



Click on the paws to take a run on over to their main page...
¤º°`°º¤ø,¸¸,ø¤º°`°º¤ø¤º°`°º¤ø,¸¸,ø¤º°`°º¤ø¤º°`°º¤ø,¸¸,ø¤º°`°º¤
To learn more about what many call "The Last Great Race" (The Iditarod Dog Sled Race), please visit:
http://www.geocities.com/sunhusky/
¤º°`°º¤ø,¸¸,ø¤º°`°º¤ø¤º°`°º¤ø,¸¸,ø¤º°`°º¤ø¤º°`°º¤ø,¸¸,ø¤º°`°º¤
A new chapter...we are now in association with
~~~~~~~~~~~~~~~
Arabian Horse Research Links
After a decade of study on the genetics behind the Colors of the Siberian Husky,
I am now focusing on cataloging Research Links & Resources about the Arabian horse.