What's was New?
on the

Below is a listing of dogs added and other changes to the site in 2000.
If you would like to see your dog(s) added...
Don't miss our Required Reading Section!
¤º°`°º¤ø,¸¸,ø¤º°`°º¤ø¤º°`°º¤ø,¸¸,ø¤º°`°º¤ø¤º°`°º¤ø,¸¸,ø¤º°`°º¤
December 2000
Cruez'R (Denmark) TOP DOG ALL BREEDS Sweden 2000

Multi BIS winner
Danish Champion
Norwegian Champion
FCI International Champion
Copenhagen Winner 1998
Copenhagen Winner 1999
Copenhagen Winner 2000
Swedish Winner 1998
VDH Sieger Leipzig 1999
Nordic Winner 1999
Finnish Winner 1999
#1 in Group 5 Denmark 1999
#1 Siberian Husky DK 1999
#3 All Breeds Denmark 1999
#2 Siberian Husky DK 1998)

Updated listings for Karamad Siberian dogs: Samiq (grey), Summer (red), Marci (grey), Teddi (silver), Starrlee (red), Marilyn (grey)
November 2000
Husky Picture Link Page - Page for links to various images that I really enjoyed on other sites & instructions on how to visit those pages
Split Copper Listings into two pages to decrease page load time and to allow for future additions
Split Grey Listings into two pages to decrease page load time and to allow for future additions
Kozmo (Grey)
Paris (Grey) - Updated owner & website information
Sabrina (Black)
Brisa Yenu (Grey) - Argentina
Rixi (Copper) - Hungary
Yukon Jack (Silver)
Zoey (Black) - Ontario, Canada
Perry & Koda (Black)
Betty (Black) - Romania
Sapphire (Grey) - Desktop Wallpaper Image available
Cyan (Copper)
Edison (Copper) - Updated website information
Breeding for Color (a simple explanation of the likelihood of red offspring when breeding two Blacks)
October 2000
September 2000
July 2000
June 2000
Fawn (silver)
Edison (copper)
Cleo (mostly black)
Updated web information for Scott Chesney's Loco-Lobo racing dogs on the site: Gypsie, Skipper, Linc
Max (mostly black)
Indy (mostly black)
Viewing tip: To enjoy the dogs "up close & personal" try setting your monitor to a lower resolution, such as 640x480. The pages should still display well and the photos will appear much larger than if viewed at a higher resolution.
Added links to the puppy images on the color page
I'm assisting several schools in designing husky logos for their new schools based on images from the site. Please contact me if you would like to provide further assistance to them.
May 2000
April 2000
March 2000
January 2000


This site was once recognized as the number two resource
on the internet for information on "Siberian Huskies by Links2Go"
(Based on the number of times it has been listed as a resource by other sites.)
The Search Engine was discontinued 1/10/2003 due to cost
Many purebred rescue associations exist around the country/world. If you are looking to acquire a purebred dog as a pet, please consider contacting one of these associations. They are run by individuals dedicated to and usually very knowledgeable about their particular breed's characteristics and needs, thus they can help you to determine whether the dog you like the looks of will actually make a good FAMILY COMPANION (not a yard ornament!).
Dogs are added to the site on a strictly 'as time permits' basis. All offers are welcome, but there is no guarantee how quickly a dog will be added to the site.
We are happy to provide technical assistance to North Wapiti Kennels, Alberta Canada
Iditarod 2000 Participants and Iditarod 2001 bound!!


Click on the paws to take a run on over to their main page...
---
Created by Ann Hernandez
Revised: February 18, 2003.
© Copyright 1997-2003.
Please do not "borrow" images or text from this site without asking permission. We have invested hundreds of hours on this site and ask that you respect our intellectual property.


©

Colorized running husky done by me to look like our original Siberian Loki.
We often grant permission to requests from other Siberian Husky sites to include our "Loki" image above, however, we request that the image is NOT to be used as part of any other site banners as it has been part of one of our site banners since 1997. The original banner only referenced 100+ siberians. Below us an updated copy visitors may use to link to our site.

Please, folks - don't plagiarize. If you want to make any of the material here available to your readers, just provide a link.
For additional sites related to Siberian Huskies, I suggest the links page of Barkarian Kennels and/or the Working Dog Web page.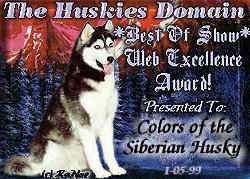 "...site isn't excellent, it's
Outstanding!!


"We have surfed 81 Northern Breed sites in the last two weeks and our designers have told me that they have chosen your site."