What's was New?
on the

---
Below is a listing of dogs added and other changes to the site in 2002.
If you would like to see your dog(s) added...
Don't miss our Required Reading Section!
¤º°`°º¤ø,¸¸,ø¤º°`°º¤ø¤º°`°º¤ø,¸¸,ø¤º°`°º¤ø¤º°`°º¤ø,¸¸,ø¤º°`°º¤
Favorite Color Poll Results
December 2002
November 2002
October 2002
September 2002
Cassidy (splash) - updated link to owner's website
August 2002
Tosch (piebald) - removed outdated link to owner's website
July 2002
May 2002
Kodi (copper) - Icepower Red Emperor - Australia
Patches & The Bat (piebald & splash coat) - updated website address and added title info - Ch Mikulov Patches CD AD JD ET
Lucky (piebald) - updated website address for Sedona Siberians
April 2002
March 2002
February 2002
Tim & Nally (grey) - Ultimate Dream della Farha & Nally of Doghouse-Farm, updated website & email addresses for Siberian Huskies of Danube-Lowland, Austria
Updated "Words of Wit" page
New link for Sibernet-l email discussion group - Nice listing of commands, including how to search the archives!
Joe & Winter (grey) - Ch. Kristari's Joe Montana & Kristari's On A Winters Day - updated website address for Kristari Siberians
Sophie (grey) - Ch. Sutaisa's Tahluu Souvenir, CGC - updated website address for Tahluu Siberians
Montana (copper) - updated website address for Shadowolf Siberians
Scarlet & LeStat (copper) - BISS Aust Ch Sibelk Crimson Mekare & Aust Ch Sibelk LeStat - updated website address & email for Snoqualmie Siberians
Beary (black) - updated website address & email for Boreayl Kennel
Moved site to a new server - PowWeb
Margo (mostly black) - Finland
Sahdi (agouti) - updated website address for Kennel Milkova - Denmark
NOTE: includes site includes pictures of very old teams
Patches (piebald) - updated title information to Aust Ch Mikulov Patches CD AD JD ET
- updated kennel web address & email - Mikulov Siberians - Australia
NOTE: the first Australian born and bred male piebald Siberian Husky in Australia to gain his Champion title and first and currently the only piebald in Australia with a CD (Obedience title) and an ET (Endurance Test) title.
January 2002
Former Interactive Color Poll
Final Results: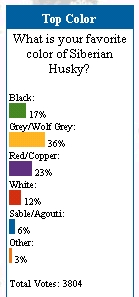 Results thru 15Mar01
What was New in 2001
What was New in 2000
What was New in 1999


This site was once recognized as the number two resource
on the internet for information on "Siberian Huskies by Links2Go"
(Based on the number of times it has been listed as a resource by other sites.)
The Search Engine was discontinued 1/10/2003 due to cost

Many purebred rescue associations exist around the country/world. If you are looking to acquire a purebred dog as a pet, please consider contacting one of these associations. They are run by individuals dedicated to and usually very knowledgeable about their particular breed's characteristics and needs, thus they can help you to determine whether the dog you like the looks of will actually make a good FAMILY COMPANION (not a yard ornament!).
Dogs are added to the site on a strictly 'as time permits' basis.
All offers are welcome, but there is no guarantee how quickly a dog will be added to the site.
We are happy to provide technical assistance to North Wapiti Kennels, Alberta Canada
Iditarod 2000 Participants and Iditarod 2001 Red Lantern Winners!!


Click on the paws to take a run on over to their main page...
---
Created by Ann Hernandez
Revised: May 30, 2003.
© Copyright 1997-2003.
Please do not "borrow" images or text from this site without asking permission. We have invested hundreds of hours on this site and ask that you respect our intellectual property.


©

Colorized running husky done by me to look like our original Siberian Loki.
We often grant permission to requests from other Siberian Husky sites to include our "Loki" image above, however, we request that the image is NOT to be used as part of any other site banners as it has been part of one of our site banners since 1997. The original banner only referenced 100+ siberians. Below us an updated copy visitors may use to link to our site.

Please, folks - don't plagiarize. If you want to make any of the material here available to your readers, just provide a link.
For additional sites related to Siberian Huskies, I suggest the links page of Barkarian Kennels and/or the Working Dog Web page.